"Before and After" photos are a fantastic way to see what is possible with Rivertowns Staging. Here are some of the transformations that we have made for our customers. Our goal is always to showcase a home's best features, maximize appeal to buyers and result in a faster, higher sale.
Updating makes a world of difference when appealing to buyers. This home languished on the market without a sale before staging. We removed outdated valences, had walls painted, and brought in new modern furniture. Result: immediate sale!
Empty rooms that are oddly shaped leave buyers stumped as to how they could use the room. By adding staging furniture and accessories, buyers can see how the space will work for them.
Staging furniture shows buyers how this large room can be used.
The owners of this beautiful home wisely realized that the look of their living room needed to be elevated to match the style of their home. The result? It sold for over list price within a week of listing.
Staged homes sell for more than empty ones. They look better online and show buyers the true potential of the space.
Staging with on-trend items resulted in multiple offers for the home shown below. And it sold for more than 10% over list price!
Some updated accessories were simply added to this homeowner's existing furniture. This is an effective way to update a room without spending a lot of money.
This empty house was on the market for 6 months. After staging, it received several acceptable offers within the first three days! Empty spaces are less appealing to buyers.
This homeowner's investment in new floors and paint were accented with a dining set that better matched the mid-century appeal of this home.
The breakfast nook, below, was converted back to its original use so that buyers could better imagine having meals in the space.
This stately living room was emptied of most of the furniture before the house went on the market so a full staging was in order. By adding colorful streamlined furniture and accessories, Rivertowns Staging updated the room, giving it new appeal without losing its warm and cozy feel.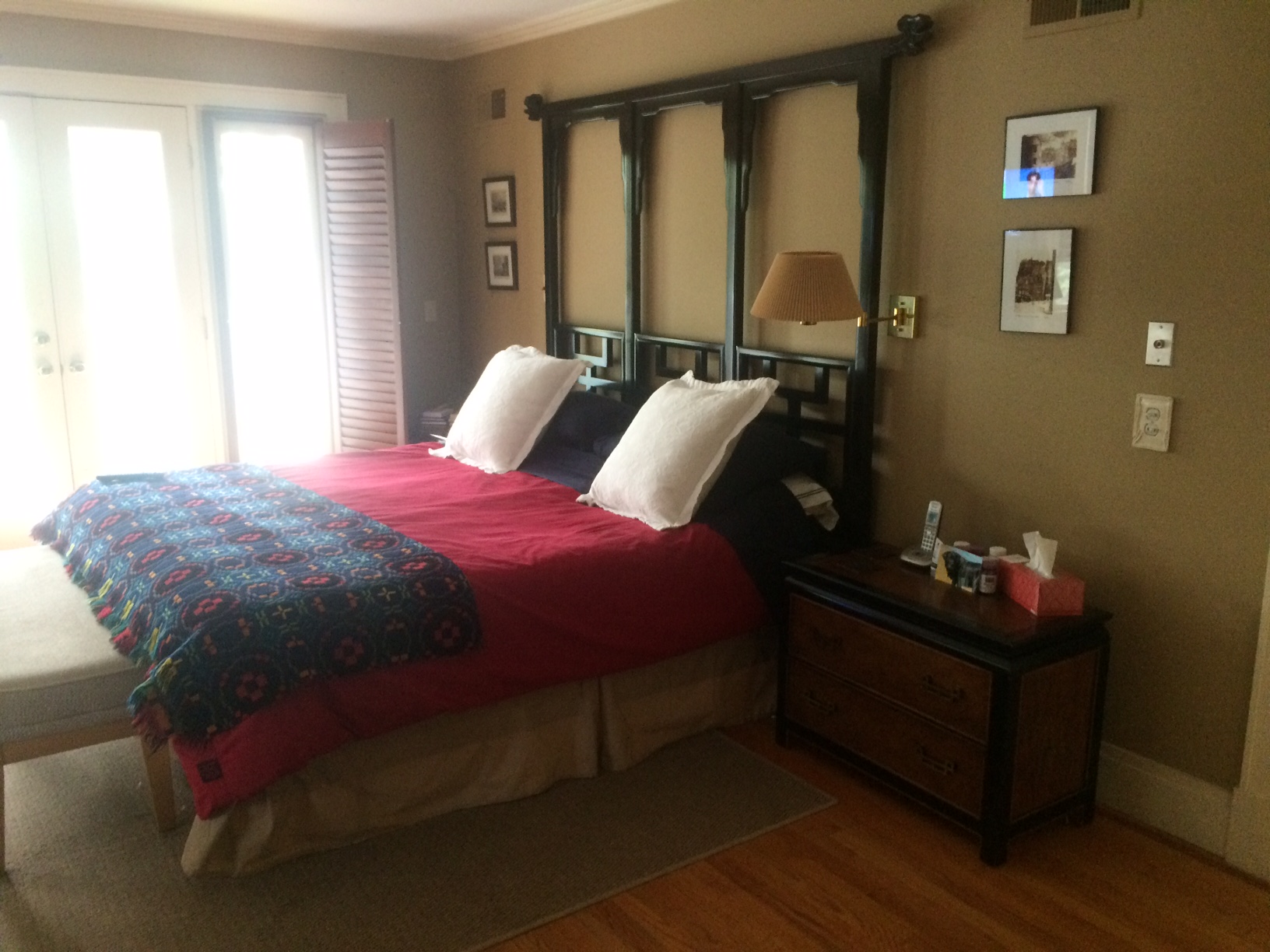 This sunny bedroom had heavy furniture and also needed painting. Rivertowns Staging chose a new color palette of soft grey-blues and white to create a master bedroom oasis. New furnishings were brought in that were less personal and appealed to a large cross-section of buyers.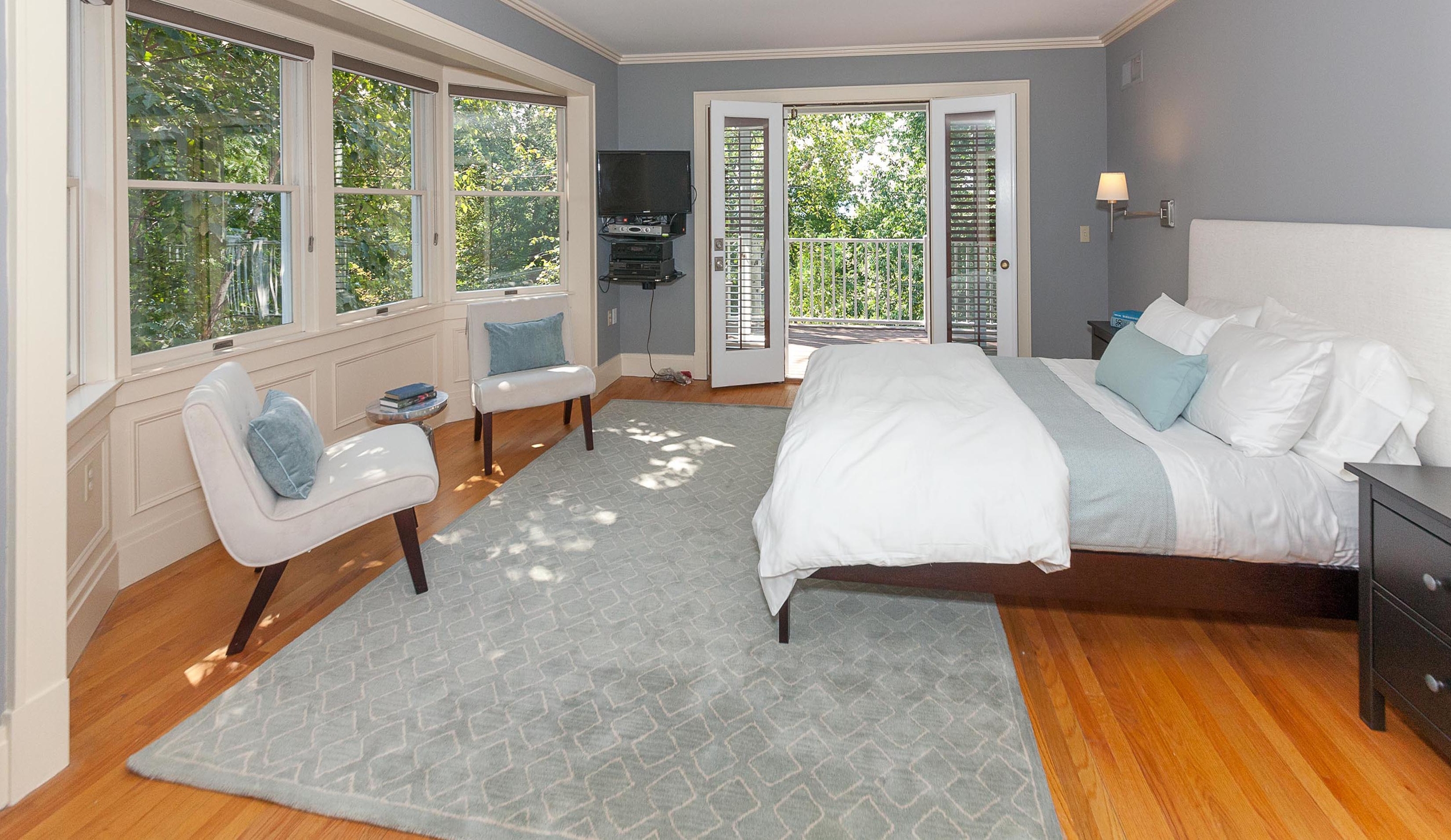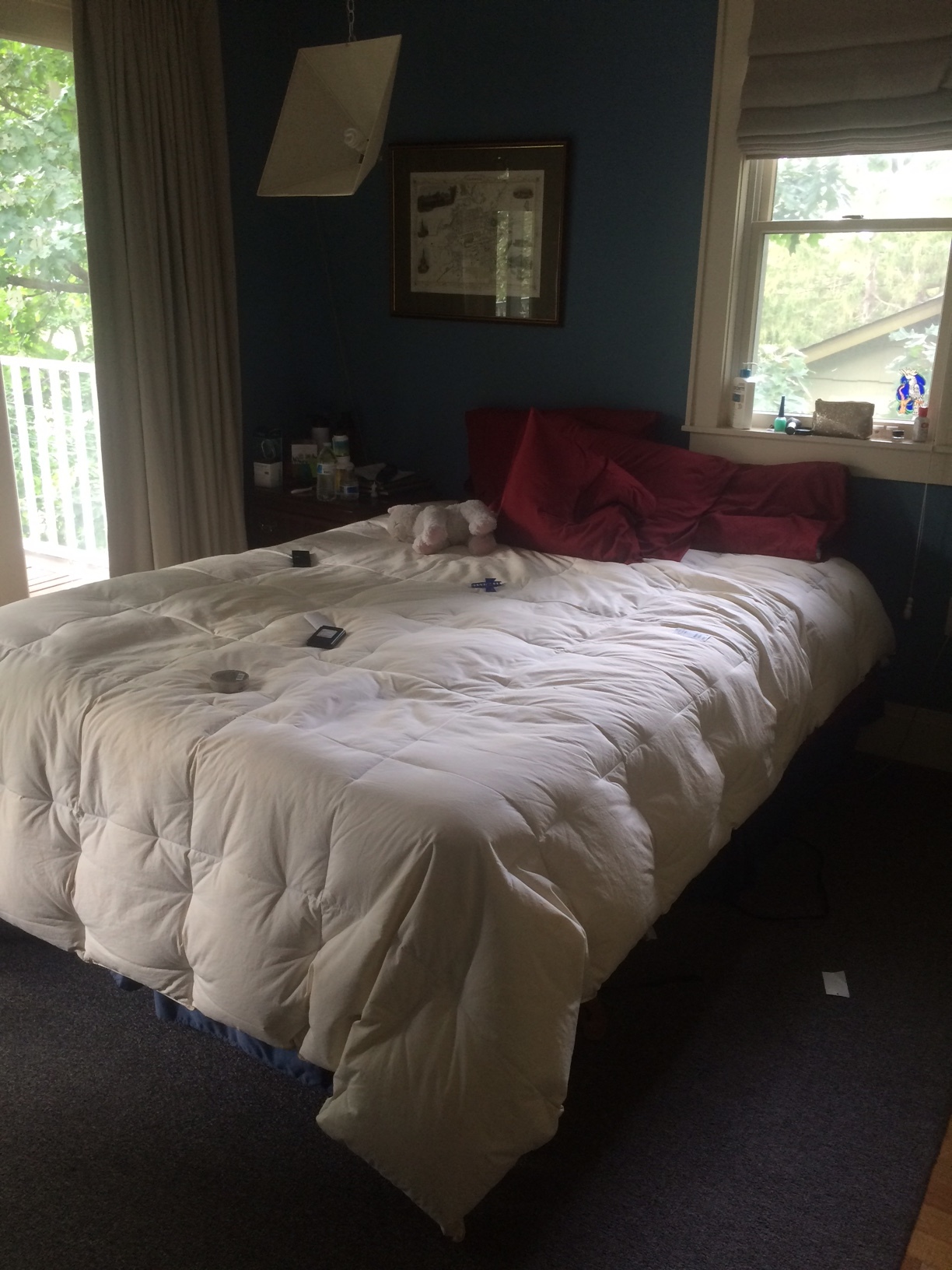 The bed in this room was over-sized and the walls needed repainting. A vibrant navy blue was selected for the walls and fun children's furniture and accessories to highlight the room's potential for families with children.
This living room felt dark and the furniture was too large for the space. The solution? Rivertowns Staging chose a soothing light gray paint for the walls and a cream colored rug to lighten up the space. Then smaller-scale furniture and a glass topped coffee table were chosen to make the room feel larger. Finally, by adding some updated accessories the room became a fresh and inviting room for potential buyers.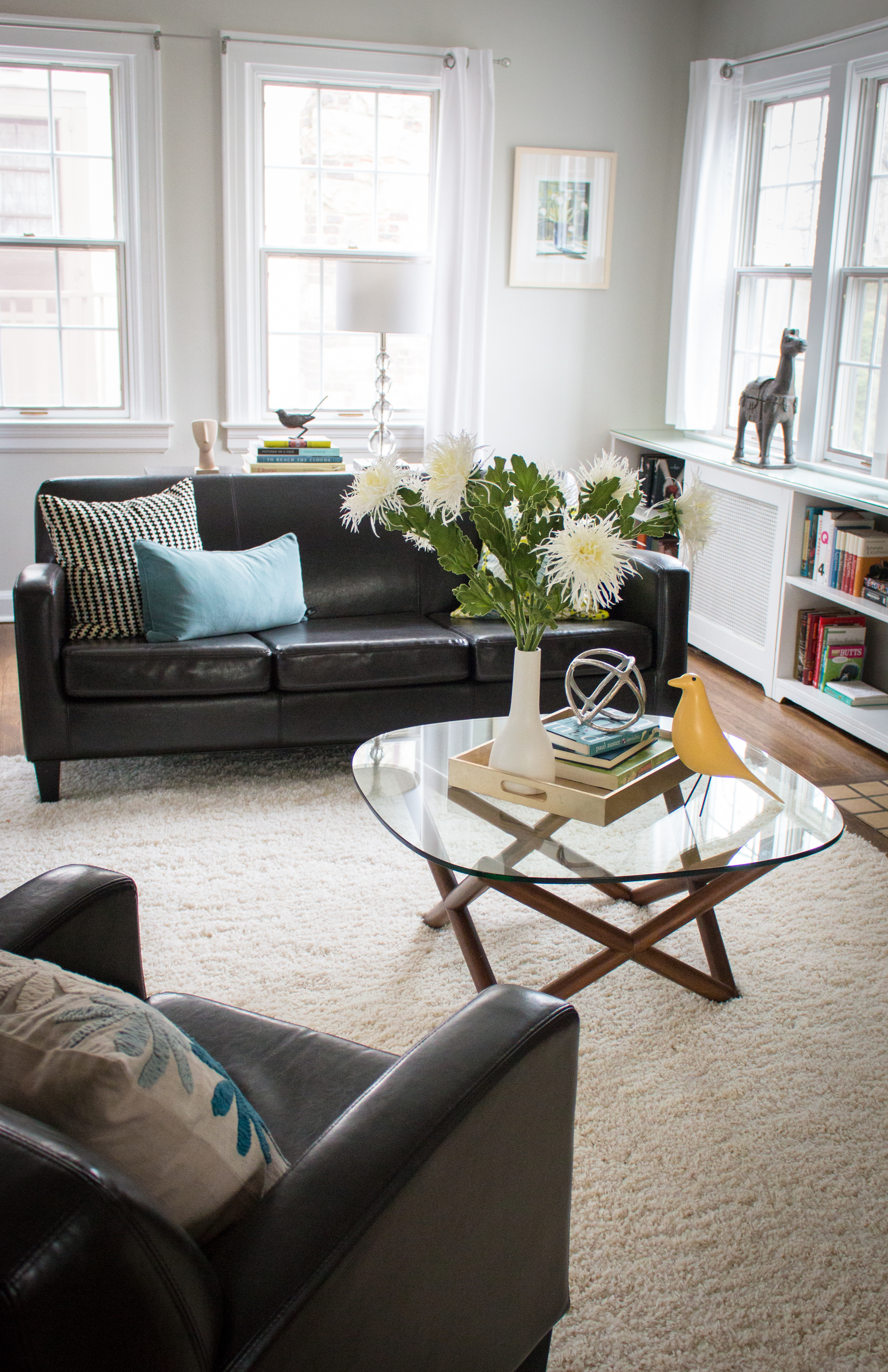 Buyers would have a hard time imagining how best to use this crowded guest bedroom. Rivertowns Staging transformed it into a cheery children's bedroom to maximize appeal and show buyers its potential.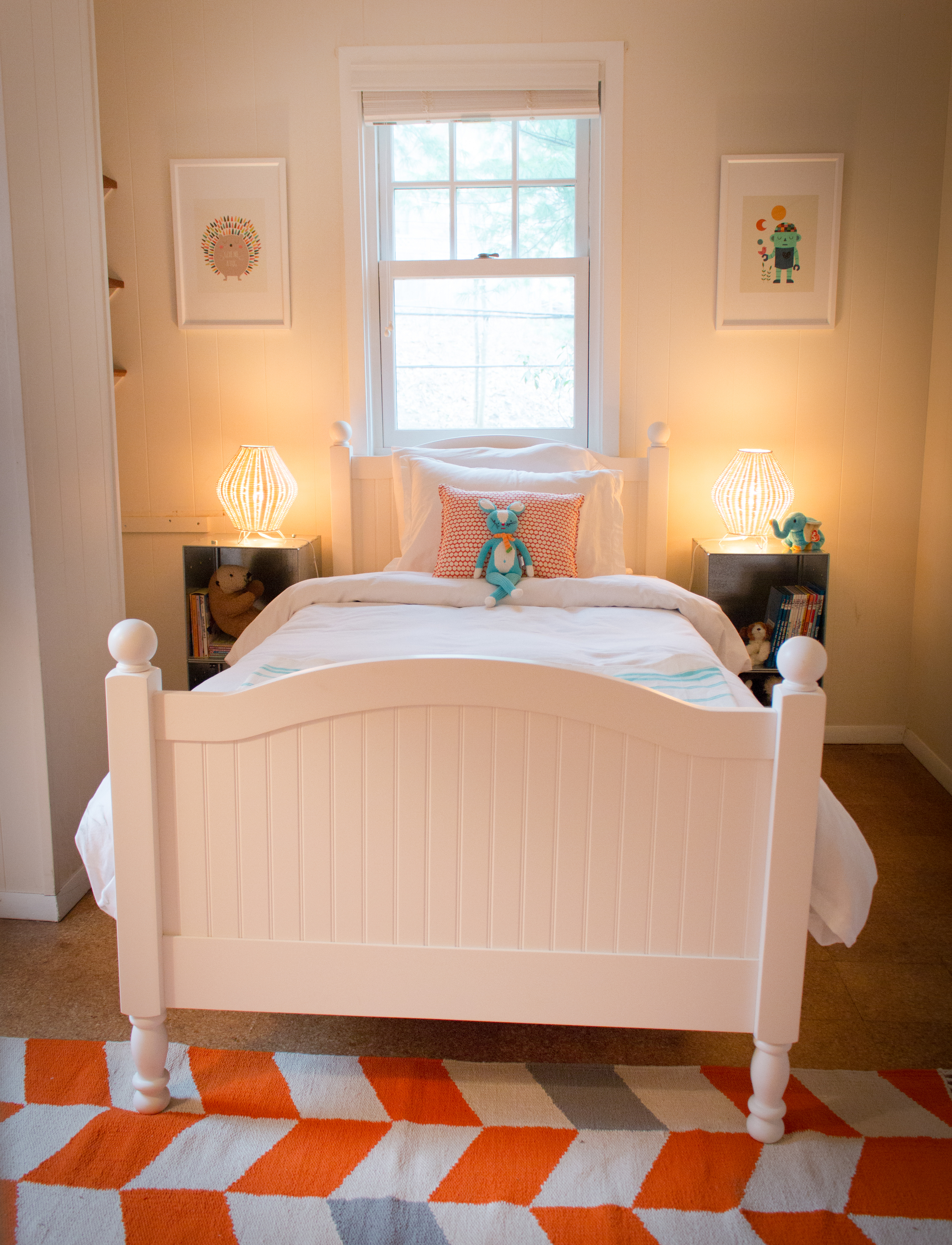 This is a good example of an "occupied" staging, where the homeowners are still living in the home. Using the homeowner's sofa, lamp and end table, the room was updated with a new rug, coffee table and accessories by Rivertowns Staging.

All of the photography on this website is of actual homes staged by Rivertowns Staging. No stock photography has been used.